Final days of the Indonesia Connect Roadshow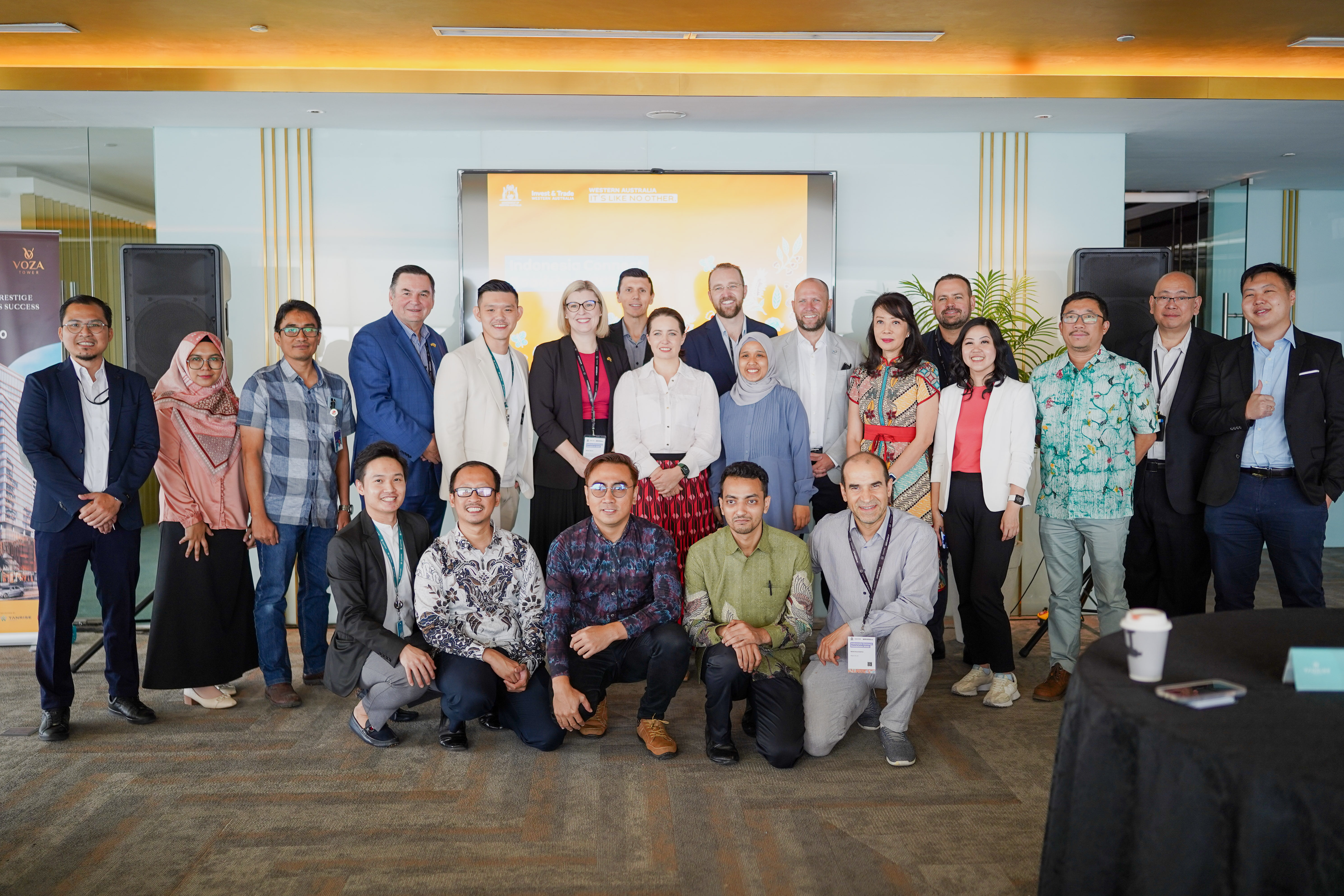 The Indonesia Connect Roadshow 2023 has wrapped up with a last day in Surabaya, East Java followed by the final stop in Denpasar, Indonesia.

With more than 130 business, government and industry representatives present throughout the mission, the roadshow has been a great success in strengthening ties between WA and Indonesia, with new opportunities for future collaborations in trade, investment and cultural exchange.
Thursday, 7th September - Surabaya

Creative Industries and Digital Economy:

Creative industries and digital economy delegates came together with Indonesian industry experts in the digital and health sectors for a Digital Economy Roundtable Breakfast. Hosted by Invest and Trade Western Australia in partnership with Austrade, discussions at the roundtable centred round the growth of the digital economy and opportunities for collaboration between WA and Indonesia. Opening remarks were provided by Daniel Holbrook, Executive Director of Investment and Trade Facilitation at Invest and Trade Western Australia, and Lauren Adams, Australia's Trade and Investment Commissioner to Surabaya.

International Education:

Delegates visited SMA Dharma Wanita, a women's vocational school in Surabaya.
Primary Industries:

Western Australian Minister for Agriculture and Food Hon. Jackie Jarvis MLC led delegates on a tour of the JAPFA Comfeed aquaculture feed processing facility. One of Indonesia's major commercial livestock feed suppliers, discussions with JAPFAA centred round the benefits and practical use of Australian grains for animal feed, including cattle, poultry and aquaculture.
Friday, 8th September - Denpasar

Creative Industries and Digital Economy:

The final morning of the roadshow kicked off with the Bali Digital and Creative Industries Gathering. Hosted in partnership with Maja Labs, an Indonesian Web 3.0 ecosystem builder and business incubator, the event provided an opportunity for WA delegates to network with Bali businesses in the digital and creative industries. Attendees were also given an overview of the latest technological innovations being developed by MAJA Labs.

Energy Transition:

Delegates made the most of their final day with site visits to PLN Bali and Pelinda Multi Terminal.

A subsidiary of the state-owned utility company Perusahaan Listrik Negara (PLN), PLN Bali is responsible for power generation and distribution on the island, while Pelinda Multi Terminal, a subsidiary of ports operator PT Pelabuhan Indonesia (Pelindo), manages an LNG terminal in Tanjung Benoa, Bali. The site visits included a tour of PLN Bali's EV charging stations, built to support the G20 summit in 2022, as well as the Pelindo's LNG terminal at the Bali Maritime Tourism Hub.

Primary Industries:

Western Australian Minister for Agriculture and Food Hon. Jackie Jarvis MLC toured Atlas Pearls, accompanied by a delegation of primary industries representatives. Atlas Pearls is a Western Australian company with its primary operations based in Denpasar for over 30 years. The owners shared their business knowledge with the delegation, along with how they have become a part of the local Indonesian community.

In the afternoon, Western Australian Minister for Agriculture and Food Hon. Jackie Jarvis MLC and the delegation sat down to a networking and business luncheon at Balinese restaurant Mama San. Attendees sampled a specially curated lunch by WA chef and Mama San owner Will Meyrick, combining Indonesian flavours and WA produce. In her address, Western Australian Minister for Agriculture and Food Hon. Jackie Jarvis MLC highlighted the opportunities and benefits of incorporating Western Australian produce in Indonesian cuisine.

International Education:

Delegates toured the Institute Seni Indonesia (ISI) Denpasar, a higher education institution focused on the creative arts, with an aim to fostering meaningful connections between Western Australian and Denpasar education institutes. ISI Denpasar holds strong ties with the Western Australian Academy of Performing Arts (WAAPA), with the two academies previously collaborating on joint performances and workshops, as well as a Memorandum of Understanding (MoU) signed in 2020 to strengthen academic and cultural cooperation, conduct joint research and publications, and enable student and staff exchanges.

To mark the end of Indonesia Connect Roadshow 2023, delegates gathered on the Bali Hai II vessel, constructed by WA shipbuilder Austral. It was an opportunity for delegates to look back over the last 6 days and share their experiences and lessons learned throughout the roadshow. While the roadshow has drawn to an end, it is only just the beginning with new opportunities and collaborations set to develop between Western Australia and its closest international neighbour.
Invest and Trade WA would like to thank the delegates, their partners and all participants for making Indonesia Connect Roadshow 2023 truly an event like no other.
Published on: 12 September 2023
If you are looking for opportunities in business, investment or trade, contact our experienced team at Invest and Trade WA.
Our in-house experts can support you directly and provide referrals or introductions across our network of overseas offices, industry bodies and government agencies.

SUBSCRIBE TO OUR NEWSLETTER