VeinTech Is Finding The Right Vein, First Time, Every Time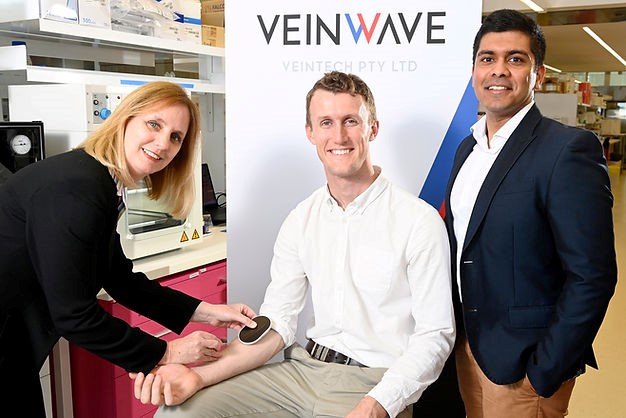 Dr Katherine Arenson, Nick Buckley and Nikhilesh Bappoo founded VeinTech in 2020 to develop and commercialise a medical device to assist with correctly inserting a cannula into a vein in situations when intravenous access is difficult.With their ultra-portable hand-held vein imaging device, the VeinWise, they aim to help clinicians successfully target the right vein, first time, every time.
With over 70% of hospital patients requiring a cannula, cannulation is one of the most common medical procedures in our health system. Yet, since the invention of intravenous cannulas in the 1950s, the IV cannula insertion failure rate is 40% on average, increasing up to 70% failure rate in individuals with difficult intravenous access (DIVAs) such as children, chemotherapy and obese patients.
The failure rate of cannulation presents a sizeable burden on the healthcare system: it's painful and stressful for patients, takes up valuable clinician time, and costs up to $20 per missed attempt or up to $70 per replacement episode.
The team came up with the concept for the device during the Perth Biodesign 2019 program, for which they won first prize. Perth Biodesign provides educational training in healthcare innovation using the Stanford Biodesign methodology, with its courses bringing together multidisciplinary teams of people passionate about making a difference in healthcare to find and validate an unmet medical need and develop a solution to address it. Perth Biodesign is administered by the University of Western Australia and WA Life Sciences Innovation Hub's Director of Biomedical and Health Innovation Professor Kevin Pfleger, who is Chair of VeinTech's Scientific Advisory Board.
Since incorporating as a company and receiving their first injection of micro-seed funding through the Biodesign NEXT program, VeinTech harnessed a variety of small investments and an Innovation Voucher grant from the Western Australian Government's New Industries Fund to begin prototype development. Using this early funding, VeinTech were able to engage a local manufacturer, Probelogic, as a development partner, and validate the feasibility of their core technology. They won the WA Innovator of the Year "Great for the State" award in 2021 following the completion of this proof-of-concept work.
In 2021 the company received funding through the WA Life Sciences Innovation Hub's WA Medical Manufacturing Voucher Program. Under the scheme, five WA-based companies were awarded a total of $450,000 to accelerate innovation projects requiring advanced manufacturing capabilities. This funding enabled VeinTech to leverage their Pre-Seed fundraising round and engage Atamo Innovations, a Perth-based product development firm with a strong track record of device development for life sciences applications, who have since, been developing prototypes ready for human and clinical testing.
In 2022, VeinTech finalised over $1M seed round with Australian-based investors and secured an additional $500,000 in funding through the Future Health Research and Innovation (FHRI) Fund's Innovation Seed Fund. The FHRI Fund is an initiative of the WA Government that provides funding to drive health and medical research, innovation and commercialisation in WA. Subsequently, VeinTech has employed its first four employees, is further developing the technology of its flagship product VeinWise, and is accelerating towards clinical studies. VeinTech also supports the student ecosystem and has hosted over 30 internships to date.
The WA Life Sciences Innovation Hub has provided additional in-kind support to the VeinTech team along their journey. Professor Pfleger has mentored, supported and advised the team since their inception, with a particular focus on strategy, and remains Chair of the VeinTech Advisory Board. MTPConnect Director of Stakeholder Engagement WA, Dr Tracey Wilkinson has also provided advice around funding and facilitated a number of important connections.
The company's leadership team are active contributors to WA's MTP sector attending the WA Premier's Science Awards, the AusBiotech 2022 conference in Perth and BME-IDEA APAC. VeinTech was one of twenty organisations featured on the Life Sciences WA – WA Life Sciences Innovation Hub exhibition stand, which was supported by Business Events Perth.
VeinTech's Chief Technology Officer Nikhilesh Bappoo was recognised as 2022 WA PhD Scientist of the Year at the WA Premiers Science Awards for his contributions to biomedical engineering research and medical technology innovation as part of his work at the Harry Perkins Institute of Medical Research and MedTech companies. In 2022, Nikhilesh was also awarded an Innovation Fellowship from the FHRI Fund.
At AusBiotech, VeinTech's Chief Executive Officer Nick Buckley spoke on a panel 'Team building for your biotech company – a hitchhiker's guide to the galaxy of biomedical teams' alongside other sector experts including Dr James Williams (Yuuwa Capital), Dr Janet Preuss (QRC Solutions), Dr Dan Beck (Wrays), Liddy McCall (Yuuwa Capital) and panel chair Lis Boyce (Piper Alderman).
Following AusBiotech, VeinTech's Chief Medical Officer Dr Arenson presented to the BioMedical Engineering: Innovation, Design, and Entrepreneurship Alliance Asia Pacific (BME-IDEA APAC) conference about the company's innovation journey, alongside a suite of local and international Biodesign alumni companies.
"From the beginning of our journey as a Biodesign team, we have been so fortunate to receive support from expert advisors and supporters, as well as organisations such as the Department of Jobs, Tourism, Science and Innovation, the FHRI fund, the MTPConnect and many others in the MedTech ecosystem. We're so excited and proud to be building our team in Perth and commercializing our technology locally and can't wait to see what comes next!" Mr Bappoo said.
Excitingly, VeinTech was recently included in the "Top 21 Perth Startups To Watch" in The West Australian's Insider magazine. They were also recently awarded an Accelerating Commercialization grant and are currently working on a clinic-ready prototype, expected to be ready for testing in early 2023. Concurrently, they are commencing usability trials with their clinical partners at Fiona Stanley Hospital, Sir Charles Gairdner Hospital and Royal Perth Hospital.
Published on: 10 May 2023
If you are looking for opportunities in business, investment or trade, contact our experienced team at Invest and Trade WA.
Our in-house experts can support you directly and provide referrals or introductions across our network of overseas offices, industry bodies and government agencies.

SUBSCRIBE TO OUR NEWSLETTER