Western Australia and India gather for international trade talks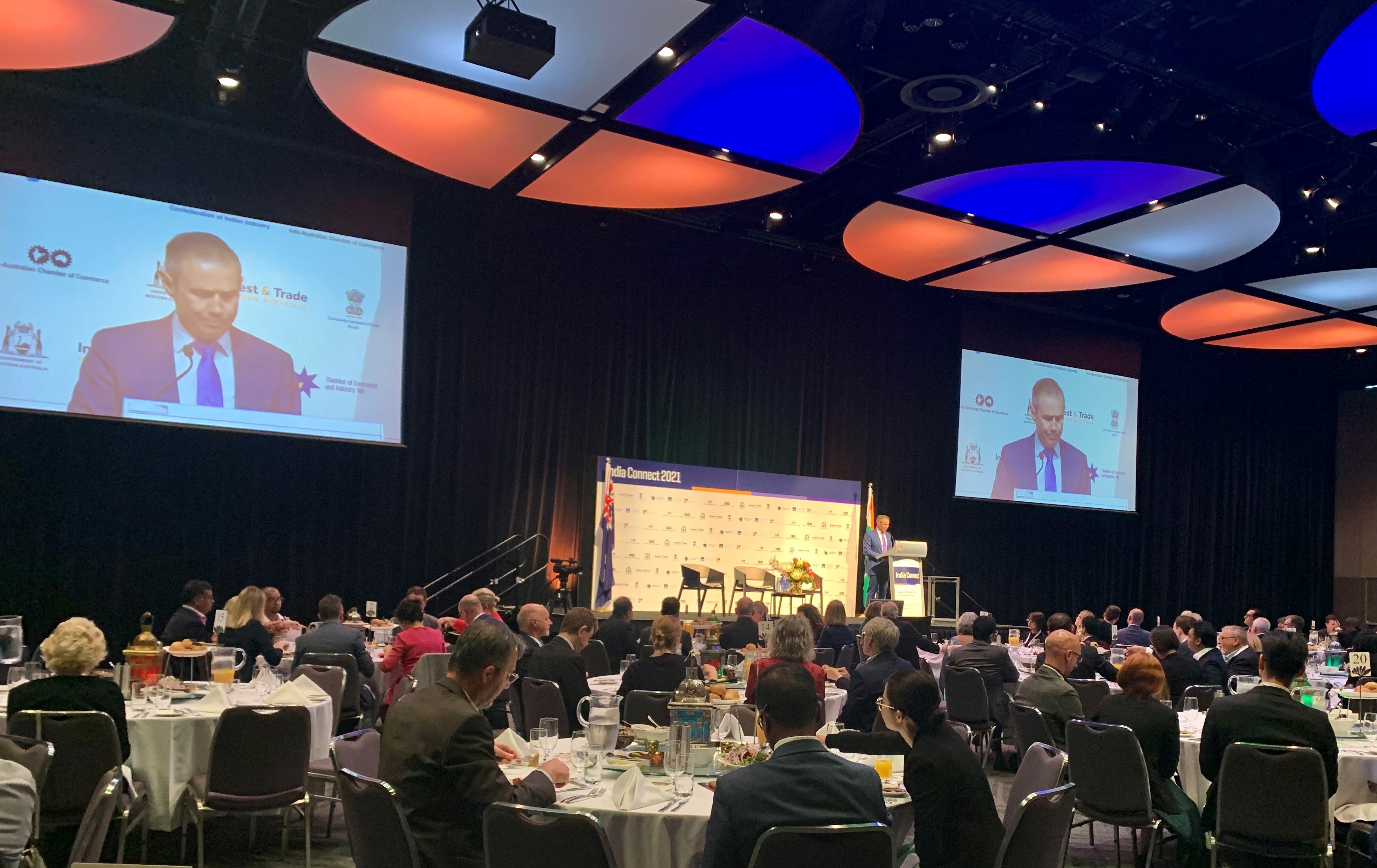 The Western Australian Government welcomed business and industry leaders today at an important event to celebrate and strengthen trade opportunities between WA and India.
Roger Cook, Deputy Premier and Minister for State Development, provided the welcome to guests at India Connect 2021.
The hybrid event attracted close to 300 delegates to the Perth Convention and Exhibition Centre, and more online from India and around Australia.
Delegates attended four industry connect sessions to discuss existing trade partnerships and explore new business opportunities in a number of growth sectors including:
Batteries and Critical Minerals / Mining & METS
Primary Industries, focussing on Grains and Fishery
International Education, VET & Tourism
Advanced Manufacturing & Technology
Speaking at the opening lunch session, Minister Cook described the strong relationship between WA and India, and how both partners can use this platform to create new trade opportunities.
"India Connect 2021 is an important demonstration of the Western Australian Government's strong commitment to increasing engagement, cooperation and collaboration with India, by growing government, industry, business, and community connections," said Minister Cook.
"This event provides an important and timely platform for Western Australian and Indian businesses.
"We come together to exchange ideas on new trade and investment opportunities that can support economic development and job creation in both jurisdictions.
"Western Australia and India share a significant strategic and economic partnership, formed through a strong history of trade links and warm, people-to-people ties.
"The Western Australian Government is committed to strengthening these links and exploring new opportunities."
India and WA maintain a significant trading partnership, with total trade in goods valued at $1.92 billion in 2020. In the last two years, India has been the State's largest market for international students.
WA has a long history of providing education to Indian students, dating back to the 1950's through the Colombo Plan.
The State's Indian community is an important part of the culturally diverse fabric of WA, with more than 49,000 residents born in India and a further 79,800 claiming Indian heritage.
WA was the first Australian State to establish an official, permanent presence in India, setting up a trade and investment office in Mumbai in 1996.
Describing his visit to India four years ago, Minister Cook said: "I was pleased to visit India in 2017, including a visit to WA's Sister State, Andhra Pradesh.
"Our Sister-State agreement with Andhra Pradesh, signed in 2016, seeks to create opportunities for collaboration between our two regions.
"These include mining and mining services, energy production and distribution, higher and vocational education and training, agriculture and fisheries systems."
Keynote speakers at India Connect 2021 included His Excellency, Mr Manpreet Vohra, Indian High Commissioner to Australia.
Minister Cook added: "Through India Connect, we seek to identify and realise new investment and trade opportunities.
"I am delighted that we can all be here today to deepen our mutual understanding, foster new partnerships and share this event with our friends from India who were able to join us virtually."
Published on: 01 October 2021
If you are looking for opportunities in business, investment or trade, contact our experienced team at Invest and Trade WA.
Our in-house experts can support you directly and provide referrals or introductions across our network of overseas offices, industry bodies and government agencies.

SUBSCRIBE TO OUR NEWSLETTER