Perth hosts international defence and security conference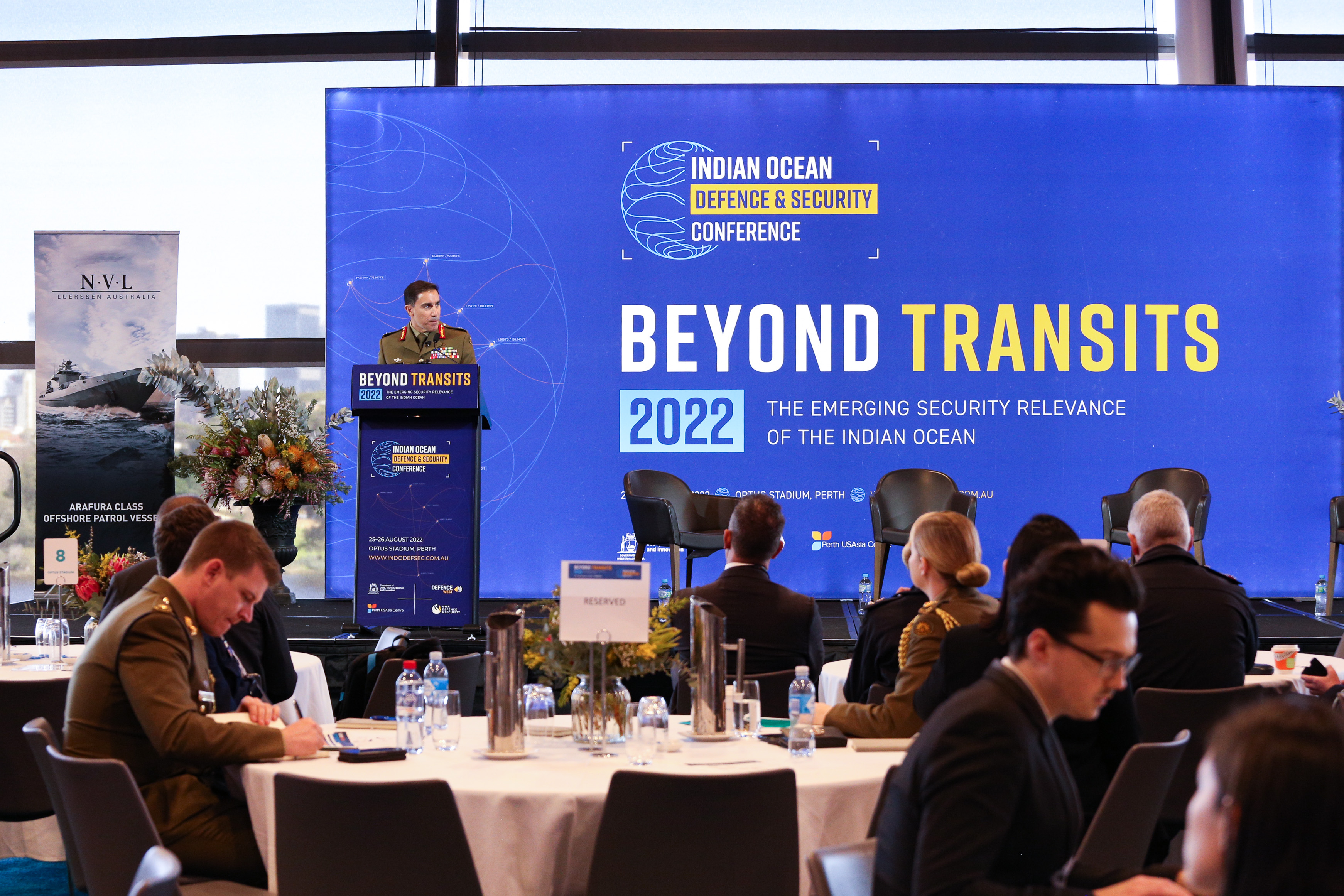 Defence and security decision makers from around the world have attended the 2022 Indian Ocean Defence and Security Conference.
More than 50 speakers and panellists shared their expert insights on the theme Beyond Transits: The emerging security relevance of the Indian Ocean.

Speakers included the Australian Defence Force, Chief of Army, Lieutenant General Simon Stuart and Chief of Navy, Vice Admiral Mark Hammond AM.
Perth's Optus Stadium was the venue as around 35 organisations showcased their capability, innovation and leading technology, seeking partnerships to deliver world-class, globally competitive defence and security products and services.

The emergence of Western Australian resource sector innovators in the defence and security space took centre stage for the first time, demonstrating how technological innovation and advances in the commercial sector can assist the defence industry.
The conference featured domestic and international speakers and panellists from government, industry and academia.
They included Australia's Minister for Veterans' Affairs and Defence Personnel, Matt Keogh, Vice Admiral (ret.) Shekhar Sinha, who served in the Indian Navy for 42 years, BAE Systems Australia Chief Operating Officer Mr Darren Kirkby and the Indonesian Institute of Sciences Dr Dewi Fortuna Anwar.
Western Australia works across 5 operational defence domains: information and cyber; maritime; air; space; and land.
The Western Australian defence sector supports the state's Defence Forces and significantly contributes to Australia's defence requirements.
Western Australia has a competitive, flexible and resilient defence industry with a long and successful history.
The state has strong, advanced manufacturing capabilities supported by tertiary institutions that are world class and at the forefront of the next generation of defence technologies and innovation.
An extensive conference program explored the implications of current local and geopolitical issues for the defence and security sectors, discussing outcomes from the establishment of AUKUS.
Western Australian Police Force showcased their innovative, world-leading capabilities and technology, including Nearme4cops, SILVA Hub and BW.
Attending were more than 500 personnel including those from the defence domains of land, air, maritime and space.
Previously known as the WA Indo-Pacific Defence Conference, this was the first time the State's flagship defence and security conference had been held since the COVID-19 pandemic.
The conference was organised by the Western Australian Government, in partnership with the Perth USAsia Centre and the UWA Defence and Security Institute.
Western Australia's Premier Mark McGowan said: "Our rapid, global leading technology, and solutions-focused aligned industry sectors, such as oil and gas, resources and mining, can be readily applied to defence to increase sovereign capability.
"Unlocking the full potential of our defence industry is a key part of this Government's plan to diversify the State's economy and secure the jobs of the future for Western Australians."
Published on: 14 September 2022
If you are looking for opportunities in business, investment or trade, contact our experienced team at Invest and Trade WA.
Our in-house experts can support you directly and provide referrals or introductions across our network of overseas offices, industry bodies and government agencies.

SUBSCRIBE TO OUR NEWSLETTER