WA-China strategic energy partnership is future focussed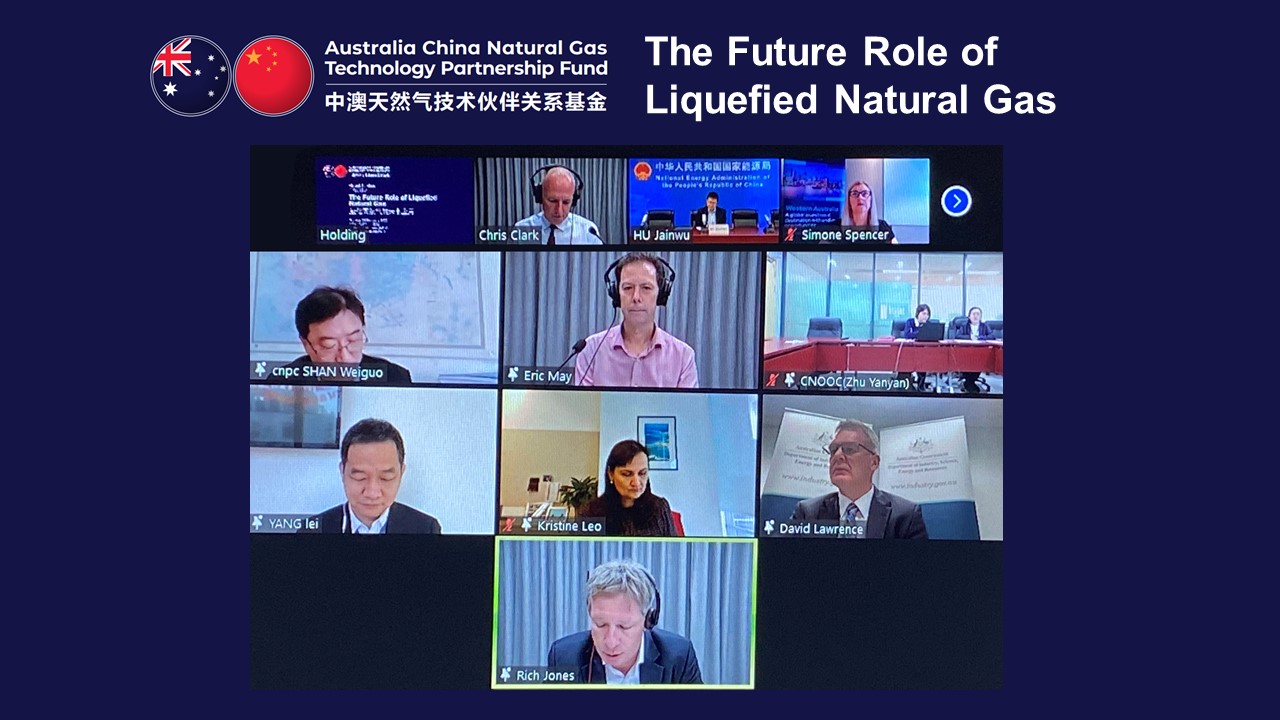 The Australia China Natural Gas Technology Partnership Fund delivered its first virtual seminar: "The role of LNG in the future" from Perth on 21 February 2022.
The Fund supports activities to establish long-term partnerships within the energy sector – working to create positive economic outcomes, increase knowledge and skills, and enhance the relationship between Australia and China.

The virtual seminar, which included panellists from Australia and China, attracted more than 190 registrations from both countries.

Local industry experts Kristine Leo (Woodside) and Rich Jones (Shell), together with Deputy Director General Chris Clark (Department of Jobs, Tourism, Science and Innovation - JTSI), David Lawrence (Commonwealth Department of Industry, Science, Energy and Resources) joined representatives from China's National Energy Administration - Director Shan (CNPC), Director Zhu (CNOOC) and Dr Yang (Beijing University).

Professor Eric May, Managing Director of the Future Energy Exports Cooperative Research Centre in Perth, led the panel discussion, with opening remarks from JTSI Deputy Director General, Simone Spencer, and of China National Energy Administration Deputy Director General, Mr Hu Jianwu.

Topics discussed included the important role of liquefied natural gas (LNG) in reducing globalised carbon emissions, global industry trends and how workforce development in the LNG sector can transfer to support and build clean energy capability.

Panellists also fielded audience questions on the role of new technology in emerging areas such as hydrogen and carbon capture sequestration (CCS).

The Fund typically supports in-person professional development opportunities, enabling professionals in Australia and China to gain cross-cultural industry experience.

This seminar was the first virtual event delivered by the Fund, reflecting the commitment of Fund partners to support continued engagement during the COVID-19 pandemic.
Image: Department of Jobs, Tourism, Science and Innovation Deputy Director General, Simone Spencer (main screen) speaking with panel members during the Virtual Seminar.
Published on: 24 February 2022
Energy, Key Sectors, Technology & Advanced Manufacturing
If you are looking for opportunities in business, investment or trade, contact our experienced team at Invest and Trade WA.
Our in-house experts can support you directly and provide referrals or introductions across our network of overseas offices, industry bodies and government agencies.

SUBSCRIBE TO OUR NEWSLETTER