Western Australia - It's like no other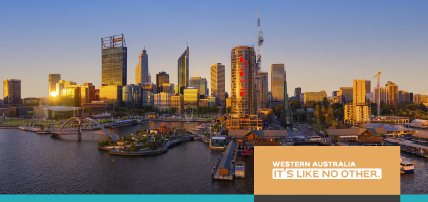 Western Australia is open for business, and it's like no other.
From 5 February 2022 we expect to welcome back visitors, international students, skilled workers and the rest of the world.
Thanks to its world-leading response to the COVID-19 pandemic, WA has laid the foundation for strong economic growth, leading the nation with the lowest unemployment rate since 2012 and maintaining wages consistently above the national average.
Incredibly robust supply chains, a reliable trading record and a collaborative approach to investment have helped WA remain an ideal partner for global business, and its close proximity to major markets and outstanding international connectivity mean global trading is easier than ever.
Home to six of the world's top 10 energy companies and the largest medical centre in the southern hemisphere, Perth is renowned as a hub of innovation with more than 500 active start-ups and success stories which include Canva and iiNet.
WA has long been ground-zero for projects and initiatives across sectors like energy, mining, space, defence, health and medical life sciences, primary industries, education, tourism, events and the arts, and with the planned reopening of the state these world-leading industries are perfectly placed to thrive and further expand.
Prior to 2019, Western Australia welcomed more than 50,000 students each year, and a return to these kinds of numbers is expected once our borders ease, with enquiries already streaming in at universities across Perth.
With investment across all sectors expected to surge following the announcement, Western Australia is primed to welcome back international students, visitors, international investors, and skilled investors, and show why it truly is a place like no other.
To support the return of visitors, www.likenoother.wa.gov.au has been created as a destination for overseas friends, students and investors to find their way to WA.
Published on: 15 December 2021
If you are looking for opportunities in business, investment or trade, contact our experienced team at Invest and Trade WA.
Our in-house experts can support you directly and provide referrals or introductions across our network of overseas offices, industry bodies and government agencies.

SUBSCRIBE TO OUR NEWSLETTER